About Jacob Lawrence
Jacob Armstead Lawrence was born in Atlantic City, New Jersey, in 1917. The son of Southern migrants, he moved with his mother and sister to Harlem in 1930 at age 13.
There, during his participation in community art workshops, Lawrence quickly discovered his love of art through the encouragement of teachers such as painter Charles Alston. Throughout the 1930s, Lawrence's art was inspired by the cultural visionaries of the Harlem Renaissance. In 1938, Lawrence had his first solo exhibition at the Harlem YMCA and started working for the WPA Federal Art Project. In 1940, he received a grant from the Rosenwald Foundation to create a 60-panel epic, The Migration of the Negro (now known as The Migration Series); when the series was exhibited at Edith Halpert's Downtown Gallery the following year, the then 23-year-old artist catapulted to national acclaim.
In the ensuing decades, Lawrence continued to create paintings drawn from the African American experience as well as historical and contemporary themes, such as war, religion, and civil rights. He taught with Josef Albers at Black Mountain College in North Carolina in 1946 and later at the Skowhegan School of Painting and Sculpture in Maine. He moved to Seattle in 1971, teaching at the University of Washington until 1983. During his later years, Lawrence worked in a variety of media, including large-scale murals, silkscreen prints, and book illustrations. Until his death in 2000, Lawrence honed a unique visual language of abstraction that remained steeped in the human condition.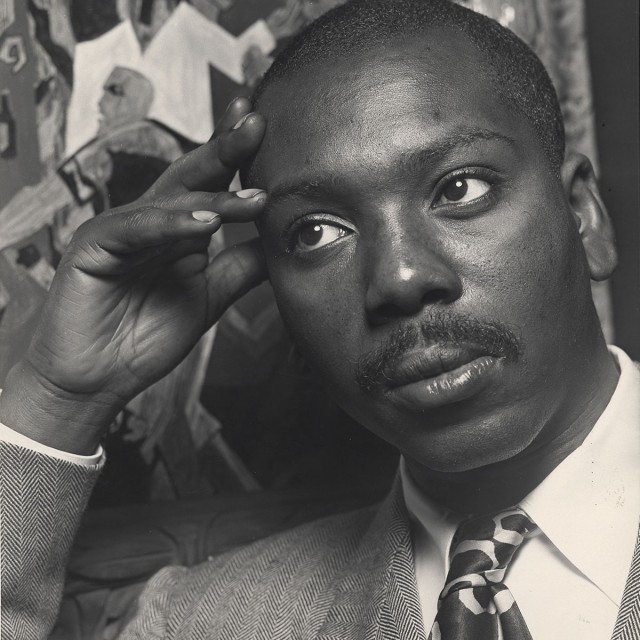 Jake had a radical mind in a sense that he was so far ahead of his time. He could see beyond the contours of time and history.
And so we see ourselves in all of the things he did. But he was so reserved—he was such a gentleman that I could never see him embracing what some called the Black Power movement, in the sense … of a symbol that was Black-inspired only. It would have to be something that reached for the depths of meaning, embracing humanity—a full humanity, a colorless humanity. These pictures are, yes, black and brown. They are colored in a sense of an artistic definition. But they are universal in their longing, in their desires, in their wishes.
Have we become, as a result of this moving North, an integrated society? Some raise the question, Have we become a post-racial society? I think in most cases the answers would be no. We're never defined as a conglomerate in a sense of our national attitudes, except in times of war and such. That is part and parcel of the American experience. We have individualism and humanism … but it's not racially bound all of the time. It's just one looking at one's self.
I think Lawrence understood all of that. And so the Black figures could have been the Irish immigrants, could have been the Italian immigrants. They could have been any Americans who came and went through this experience of accommodating themselves to new ideas, new structures, new plans."