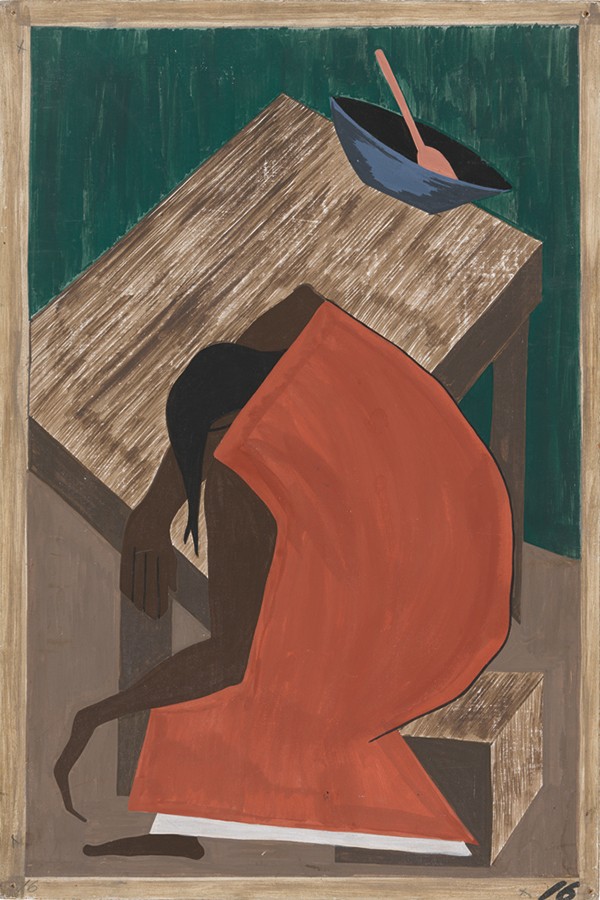 16

After a lynching the migration quickened.
Curatorial Comparison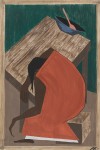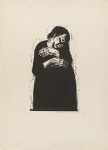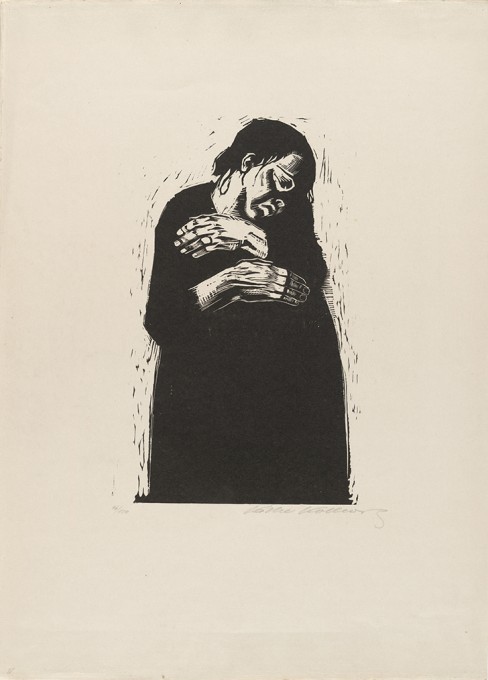 Lawrence often spoke of the influence of other artists representing social issues, stating, "The country was very social minded—and I think the big influences were in art… . People of this sort and the type of content that they were doing was very important to the people at the time. They were working in a social realist philosophy." [1] Lawrence mentioned the influence of German artist Käthe Kollwitz, who is best known for her prints depicting social and political injustices in Germany during World War I and II.
Lawrence's Panel 16 showing a female hunched in agony over the lynching of a loved one echoes similar works by Kollwitz on the theme of loss and grieving. Both artists utilize specific techniques for maximum emotional impact. Lawrence paints the scene with clear cubist influences, from the disjointed geometric figure and limited color palette to a tabletop that appears to be collapsing under the weight of grief and a bowl about to fall to the ground. His figure is faceless, an everywoman. Rather than depict the violence of the act of lynching, Lawrence focuses on those left in the wake of such a horrific event. Similarly, in her War series, Kollwitz depicts figures overcome by loss, only she utilizes Expressionist techniques and the woodcut medium to give her subjects simplified yet highly emotive, pained faces. The figure in The Widow I, shrouded in black against the white background, is alone in her grief. Like Lawrence, Kollwitz focuses on the emotional damage to those who've lost loved ones due to social and political atrocities. However, Kollwitz's imagery and pain comes from a more personal source—the death of her son Peter who was killed in combat in 1914. [2]
[1] http://www.aaa.si.edu/collections/interviews/oral-history-interview-jacob-lawrence-11490#transcript
[2] Deborah Wye, Artists and Prints: Masterworks from The Museum of Modern Art (New York: Museum of Modern Art, 2004), 93.