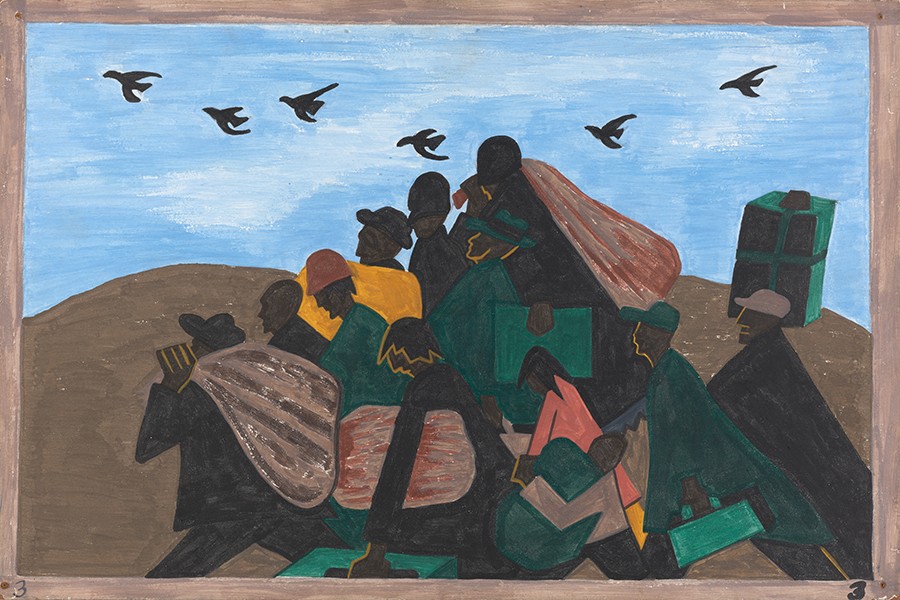 3

From every southern town migrants left by the hundreds to travel north.
Curatorial Comparison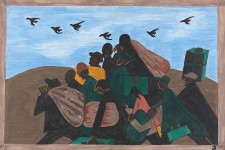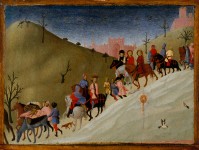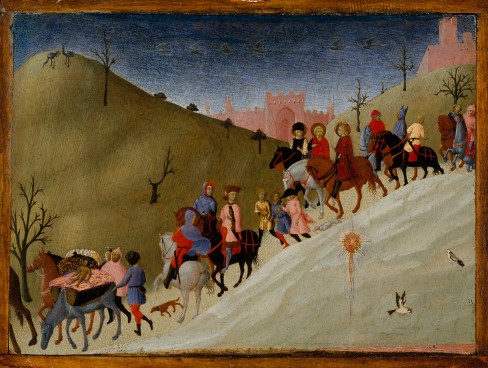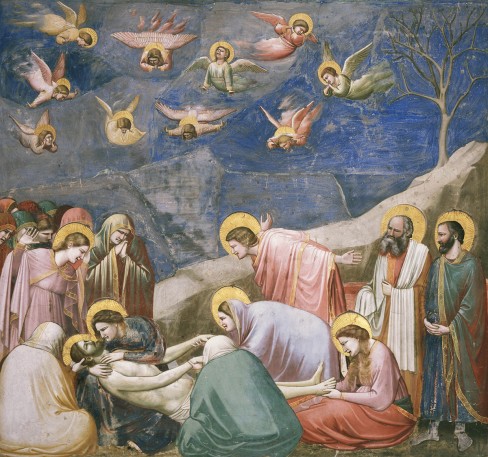 This panel recalls Jacob Lawrence's admiration for early Italian Renaissance painters such as Sassetta (1392–1450) and Giotto (1266/7–1337). As a young student of the Harlem Art Workshops in the 1930s, Lawrence honed his artistic eye and sensibilities through encounters with art at the Metropolitan Museum of Art. A short walk away from his home in Harlem's Striver's Row, Lawrence went there regularly with fellow artists Gwendolyn Knight (later his wife), William Blackburn, and Ronald Joseph.
During one of his later visits in the 1990s, Lawrence was drawn to a small 9-by-11-inch egg tempera panel by Sassetta, The Journey of the Magi. The painting bears striking similarities to Lawrence's first panel of The Migration Series. Sassetta powerfully conveys the implied forward motion of the magi and their attendants who journey to Bethlehem accompanied by a flock of cranes, just as Lawrence's figures move from right to left as one familial unit in the company of a migrating flight of birds. The Journey of the Magi, according to Lawrence, is "simplified but very complex at the same time. We say simplicity and imply it's easy to accomplish. This isn't easy… . I can describe these shapes, the way they balance one another, the way the image moves from dark to light. But there's something else that I can't describe formally, a certain feeling, an intuitiveness, an emotional authenticity." [1] Such emotional force is behind the deceptively simple language of form and color in The Migration Series.
[1] Michael Kimmelman, "At the Met and the Modern with Jacob Lawrence: An invigorating Homecoming," New York Times, April 12, 1996, C4.