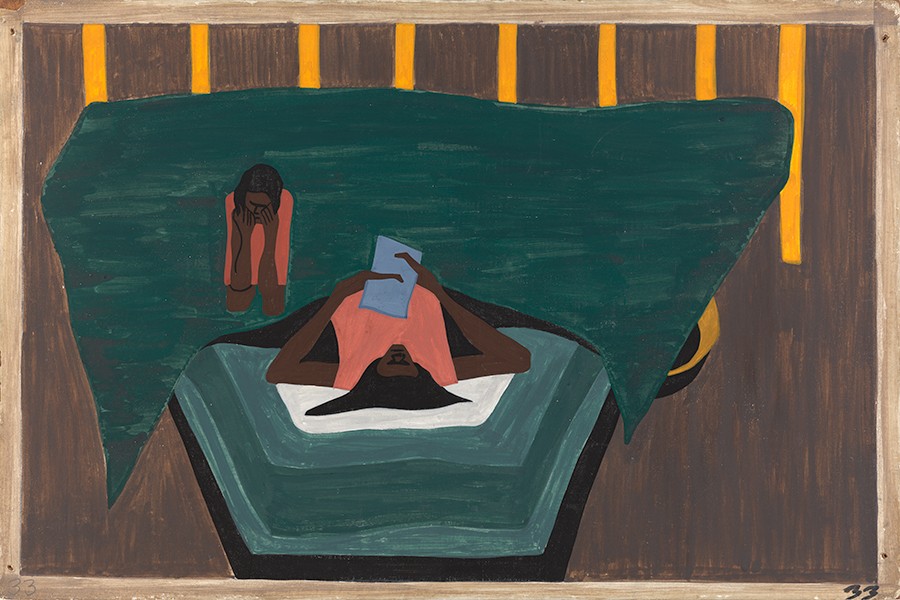 33

Letters from relatives in the North told of the better life there.
Panel 33 speaks to the importance of letter writing during the Great Migration. It was the primary means for the migrants to send assurances to loved ones of their well-being and to report on opportunities in their newly adopted homes of the North. Accounts in newspapers also exerted an influence in driving the movement; however, these were decidedly biased depending on whether the perspective came from a Southern vs. Northern newspaper. There was no more personal stimulus than hearing first-hand accounts from family and friends encouraging their "sisters" to join them in seeking a better life up North.

CHICAGO, ILLINOIS
My dear Sister: I was agreeably surprised to hear from you and to hear from home. I am well and thankful to say I am doing well. The weather and everything else was a surprise to me when I came. I got here in time to attend one of the greatest revivals in the history of my life–over 500 people joined the church. We had a Holy Ghost shower. You know I like to have run wild. It was snowing some nights and if you didnt hurry you could not get standing room. Please remember me kindly to any who ask of me. The people are rushing here by the thousands and I know if you come and rent a big house you can get all the roomers you want. You write me exactly when you are coming. I am not keeping house yet I am living with my brother and his wife. My sone is in California but will be home soon. He spends his winter in California. I can get a nice place for you to stop until you can look around and see what you want. I am quite busy. I work in Swifts packing Co. in the sausage department. My daughter and I work for the same company—We get $1.50 a day and we pack so many sausages we dont have much time to play but it is a matter of a dollar with me and I feel that God made the path and I am walking therein.
Tell your husband work is plentiful here and he wont have to loaf if he want to work. I know unless old man A—- changed it was awful with his sould and G—- also.
Well I am always glad to hear from my friends and if I can do anything to assist any of them to better their condition. please remember me to Mr. C—- and his family I will write them all as soon as I can. Well I guess I have said about enough. I will be delighted to look into your face once more in life. Pray for me for I am heaven bound. I have made too many rounds to slip now. I know you will pray for prayer is the life of any sensible man or woman. Well goodbye from your sister in Christ
P. S. My brother moved the week after I came. When you fully decide to come write me and let me know what day you expect to leave and over what road and if I dont meet you I will have some one ther to meet you and look after you. I will send you a paper as soon as one come along they send out extras two and three times a day.

Selected Transcribed Letters of Negro Migrants of 1916–1918; Collected under the direction of Emmett J. Scott. Library of Congress, Manuscripts Archives, Carter G. Woodson Collection and National Urban League Collection