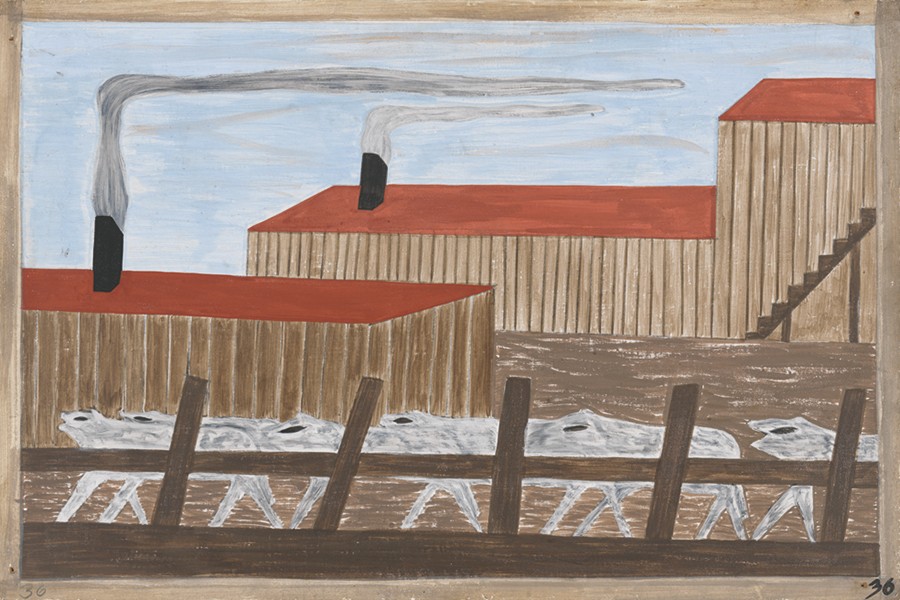 36

Migrants arrived in Chicago, the gateway to the West.
As Lawrence implies in Panel 36, Chicago played an important role in the Great Migration. From 1916 to 1919, between 50 and 70 thousand black Southerners relocated to Chicago, and thousands more passed through the city on their way to other Northern destinations. The migrants were drawn in large part by the meat-packing industry and other factory jobs, the optimistic glimpses into city life offered in the widely circulated Chicago Defender and letters from family and friends already settled there, and to the ease of access to the city via the Illinois Central Railroad, which provided a direct line to Chicago through rural Tennessee, Mississippi, and Louisiana. [1]
Once migrants arrived at Chicago's Illinois Central Terminal they headed to the South Side, which had long been predominantly black and offered lodging, job opportunities, and a sense of community to recent transplants. [2] However, the large influx of people and rising demand for housing fueled racial tensions between blacks and whites, as well as tensions between the newcomers and those who had been there before the migration. [3] Racial violence in Chicago increased dramatically beginning in 1917 and came to a head in summer 1919. That year a black teenager was murdered when his raft floated too close to a "white" beach on the South Side, and from July 27 through August 8, 38 people (23 blacks and 15 whites) died and over 500 were injured. [4]
Despite these occasions of violence, most migrants who settled in Chicago remained optimistic about their future in the city. Black Chicagoans were rarely punished for demonstrating against discrimination and thus felt comfortable voicing their displeasure. The majority of blacks found their lives were vastly improved by leaving the South: they were able to vote, they could send their children to integrated, better schools, they earned higher wages in unionized jobs, and they were eligible for promotions. [5]
[1] James R. Grossman, Land of Hope: Chicago, Black Southerners, and the Great Migration (Chicago: University of Chicago Press, 1989), 4–5.
[2] Ibid, 123–134.
[3] Ibid, 138.
[4] Ibid, 179.
[5] Ibid, 259.