5

Migrants were advanced passage on the railroads, paid for by northern industry. Northern industry was to be repaid by the migrants out of their future wages.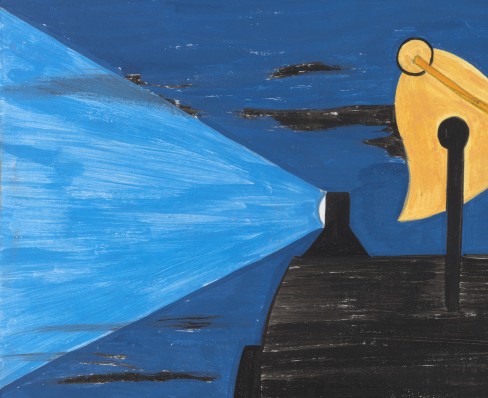 Lawrence's command of aqueous media is clear in his capacity to push the limits of the casein tempera. He described his own working method as a "mechanical process" in which invention and creativity enter into the development of an image. [1] In Panel 5, he succinctly depicts the headlight of the train as it penetrates the night sky by abruptly changing the tone of the sky from a dark to a light blue. Through his manipulation of the paint he conjures up the misty quality of the light by emphasizing the brush strokes in the conical area lit by the headlight and leaving the surrounding evening opaque and flatly painted.

Excerpted from Elizabeth Steele and Susana M. Halpine, "Precision and Spontaneity: Jacob Lawrence's Materials and Techniques," Jacob Lawrence: The Migration Series (Washington, DC: The Rappahannock Press in association with The Phillips Collection, 1993): 157–58.
[1] Lawrence, interview with authors, Elizabeth Chew, and Shelly Wischhusen-Treece, The Phillips Collection, Washington, DC, June 4, 1992.