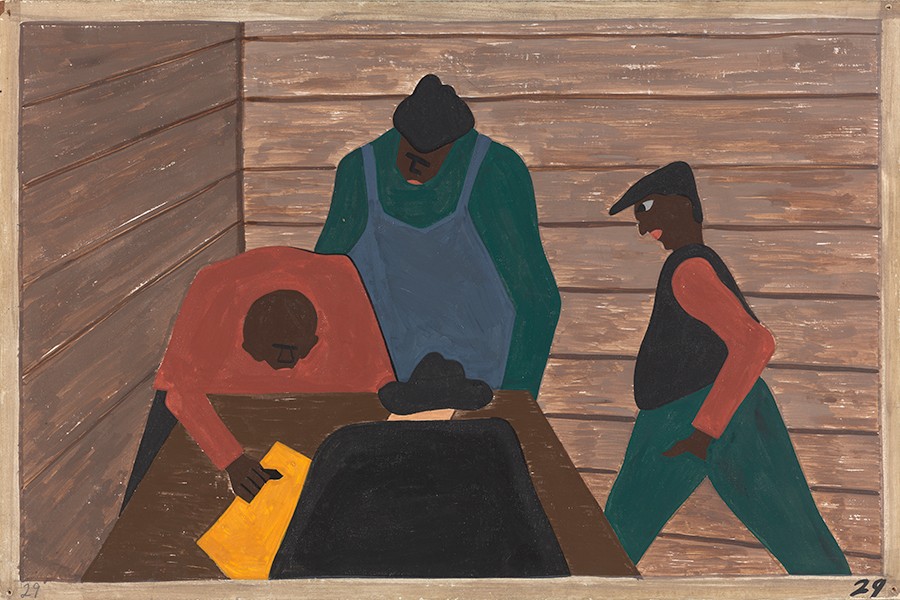 29

The labor agent recruited unsuspecting laborers as strike breakers for northern industries.
In this panel as well as Panels 28 and 41, Lawrence makes reference to labor agents who were sent to the South from Northern companies to recruit African Americans to fill industry jobs left empty by World War I. Lawrence shows their early success in recruiting able-bodied black men in Panels 28 and 29, and the subsequent troubles they faced as the migration hit its peak in Panel 41.
In the beginning, labor agents played a large role in spurring the mass migration of Southern blacks to the industrial North, promising better job and education opportunities. Some agents would even stand on street corners handing out train tickets to young males as incentive to move north. Others were more guarded in their efforts, walking on a crowded street saying, "Anyone want to go to Chicago, see me," to passersby in a low tone. [1] African Americans who were fed up with limited jobs and racism in the South jumped at the chance to improve their situation.
However, as word of opportunities in the North spread amongst the African American community and more and more blacks moved north, labor agents became unnecessary. Agents soon came under attack by Southern states that found their economies struggling and their sources of cheap labor dwindling. Southern sheriffs arrested labor agents and states banned newspaper ads featuring opportunities in the North.
[1] Emmett J. Scott, Negro Migration during the War (New York: Oxford University Press, 1920), 36–37.